Adjunct Instructors – McLennan Community College Continuing Education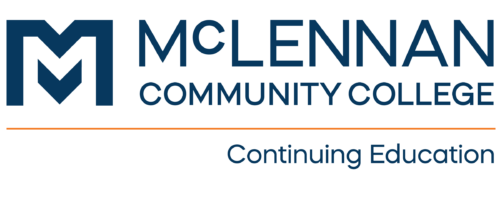 Continuing Education Part-Time Instructor Positions
Part-Time instructor positions are filled on an as-needed basis. Applications are kept on file for one calendar year
CORPORATE TRAINING PROGRAMS
Microsoft Office Instructor (Excel, Access , Outlook, PowerPoint and Word)Minimum Requirement: Use all aspects of Microsoft Office as part of current or recent past employment.
Preferred Requirement: Previously taught Microsoft Office.
COMMUNITY PROGRAMS
Cooking
Baking
Soap Making
Candle Making
Meditation
Oil/Acrylic Painting
Pottery
Yoga
COMMUNITY HEALTH PROGRAMS
Certified Nurse Aide – LVN/RN Requirement
Certified Patient Care Technician – LVN/RN Requirement
Certified Medication Aide – RN Requirement
AHA Instructors – CPR
NEW: Pharmacy Technician! In Need of Pharmacist or Pharmacy Tech's with 3+ Years Experience!
HIGHLANDER RANCH
Riding Instructors in Western, Hunter/Jumper and Dressage disciplinesApplicants for Riding Instructors: Certified Horsemanship Association (CHA) Instructor Certification is required within one year of employment. A demonstration of horsemanship and ability to instruct a class is a prerequisite to being hired.
QUALIFIED APPLICANTS SHOULD SUBMIT THE FOLLOWING
A completed MCC Application for Employment form (Go to www.mclennan.edu/employment to download the employment application.)
Resume/Vita
Photocopies of College Transcripts and/or Certifications demonstrating ability to instruct in discipline(s) applying for.
*NOTE: For the purpose of the application process, Official or Unofficial transcripts are acceptable. Unofficial transcripts must be verifiable by either a College Seal or URL web address printed on the transcript (refer to your printer settings). If you are selected for the position Official Transcripts will be required at that time.
Human Resources will forward your application materials to the departments(s) for which you are applying. After review of your qualifications/experience, the department will contact you directly if your credentials meet departmental requirements. Separate application materials are required for each position applying for.
*NOTE: this is a security sensitive position and an appropriate background investigation will be made on applicants being strongly considered for this position.
For application information, contact the Human Resources Office at 1400 College Dr., Waco, TX 76708, Telephone 254.299.8611, Email MCCJobs@McLennan.edu.