Industrial Maintenance – Lead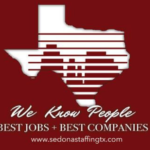 Website Sedona Staffing Services
Serving Waco since 2001. Free to Applicants!
Sedona Staffing in Waco is immediately hiring for an Industrial Maintenance Lead.
Pay Rate: $25.00-$28.00/hr
Job Responsibilities:
Will identify, troubleshoot and repair problems and perform preventive maintenance on mechanical, electrical, hydraulic, pneumatic systems and manufacturing equipment within facility.
Perform all tasks in a safe manner including LOTO procedures to ensure quality, service and cost objectives are met.
Maintain inventory of replacement parts for tools and equipment. Inspect and clean equipment, tools etc and maintain appropriate logs and documents. ​
Must be able to lift up to 50 pounds, bend, squat, kneel and stand for 8 to 11 hours per day.
This position requires using hands and arms in handling, installing, positioning, and moving materials.
Must pass criminal background check and drug screen test.
Preferred Qualifications:
Working knowledge of 220 and 480 volt electrical power.
High school Diploma or GED required.
Must be able to work effectively in a team environment and work independently.
Ability to read one-line diagrams, blueprints and schematics is required.
Forklift experience
Electrical, HVAC and Welding knowledge necessary
Apply at www.sedonastaffingtx.com
Recruiting Office:
815 N. Hewitt Dr., Hewitt, TX 76643
Phone: 254-666-9494