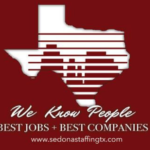 Website Sedona Staffing Services
Serving Waco since 2001. Free to Applicants!
Sedona Staffing Services is immediately hiring for a Safety Manager to work in Waco, Texas!
Work Hours: Monday-Thursday, 6 AM to 4:30 PM (Three day weekend every week!)
Travel:
This position will require 30% travel to company locations in Waco, San Antonio and Mississippi. Mileage and Gas will be reimbursed.
Safety Responsibilities:
Lead/Conduct Safety Trainings
Monthly Safety Inspections in company locations using OSHA standards with a written report to company management
Quarterly Fire Safety inspections in company locations with written reports to PM's and GM
Keep log books up to date on all Safety Training and all Safety postings given to all employees
Create and write new training programs where needed
Keeping OSHA logs on injuries
Investigating and writing reports on all injuries for root cause analysis
Interview injured employees and witnesses and write reports-retrain
File claims for injured with Workers Comp
Keep log for all First Aid Kits and product used from them
Keep near miss log and add safety procedures where needed
Check and write a number of job safety procedures each month
Review and update all company safety policies yearly
Keep your own personal knowledge of OSHA Standards and requirements up to date
Forklift Training Program
Upkeep of SDS file and training
Right to Know Training
Individual SDS Training
Program to ensure compliance
Assist in all other areas as Management needs
Job Requirements:
Applicant must have strong reading and writing skills.
Applicant must have relevant OSHA certifications and training.
Degree in Safety related track is preferred
Must be able to present training material in front of big and small groups.
Position requires, walking, stooping, some lifting. Must be able to stand on feet for 1 to 2 hour periods.
Must be able to work well with others in a concerted team effort.
Must have good phone skills.
Relevant Certification and Education Required
Must be able to travel in personal vehicle – mileage and gas will be reimbursed
Minimum 2-5 years of experience
Please apply at www.sedonastaffingtx.com
Recruiting Office: 815 N. Hewitt Dr., Hewitt, TX 76643