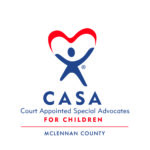 Website CASA of McLennan County
Job Title: Advocate Supervisor
Reports To: Program Director
FLSA Status: Exempt
Compensation: $37,000 – $39,000
Benefits: Health Insurance, PTO/Sick, Family Leave
General Summary
The Advocate Supervisor believes in and promotes CASA of McLennan County's mission and acts in accordance with program policies and procedures. Reporting to the Program Director, the Advocate Supervisor is a member of the agency's advocacy team. The Advocate Supervisor is responsible for motivating, coaching, and supervising Volunteer Advocates as they provide best-interest advocacy for children in foster care. Furthermore, the Advocate Supervisor utilizes a trauma-informed, strengths-based approach in their work.
Knowledge, Skills, and Experience
Education
A minimum of a Bachelor's degree in Social Work or a related field
Or, at least 2 years of experience with a CASA program or in a similar position with Child Protective Services or other child welfare agency (if a college degree has not been completed, a writing sample may be requested)
Master's Degree in Social Work or related field is preferred
Critical areas of qualifications include the following:
Experience in managing and supervising staff and/or volunteers
An understanding of child and family advocacy issues within the Child Protection System
An ability to concisely and clearly identify permanency planning concerns for children and provide best-interest advocacy
An ability to work under time constraints, be goal-oriented, and maintain productive and effective performance and interaction with staff, volunteers, clients, and other professionals
Spanish/English fluency is considered an advantage
Applicant must pass program required background checks
Essential Responsibilities and Duties
Manages a caseload of no more than 25 Volunteer Advocates and a maximum of 30 cases/family groups. Ensures that all case-related responsibilities are met while CASA is appointed. Responsibilities include, but are not limited to: supervising volunteer advocates; attending and participating in staff and case-related meetings; attending and participating in all related court hearings; participating in regular supervision with the Program Director; maintaining accurate and complete client case records; and providing case coverage for other Supervisors when they are out of office for sick or personal leave. On occasion, Supervisors may be expected to provide direct advocacy services on cases in which a volunteer advocate is not assigned. Staff cases will not exceed approximately 25% of the Supervisor's overall caseload.
Other Responsibilities
Assists with recruitment efforts and events
Assists with fundraising events
Attends and participates in community meetings as needed by Program Director
Physical Requirements and Work Environment
The Advocate Supervisor will be expected to have daily transportation to attend court hearings, staffings, visitations, fundraising events, etc. The position requires a flexible schedule as visits with Advocates may occur in the evenings or on weekends. The Advocate Supervisor will spend some time in the office that could involve intermittent physical activities including bending, reaching, sitting, and walking during working hours. Additionally, it is anticipated that the Advocate Supervisor may spend several hours of each day seated. Reasonable accommodations may be made to enable a person with physical disabilities to perform the job.