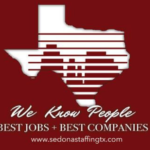 Website Sedona Staffing Services
Serving Waco since 2001. Free to Applicants!
Sedona Staffing Services is immediately hiring for a CAD Drafter/Designer to work in Waco, Texas!
Job Description
Currently, we are seeking a Designer/ Drafter to work with our design team to construct standard and custom products with the use of the most current AutoCAD software. This candidate will be driven to aid in the improvement of business process and capable of working in a team environment while being tasked with individual objectives. Typical project timelines range from a few minutes up to several weeks and require the candidate to be able to clearly communicate with internal and external customers.
Essential Duties and Responsibilities
1.    Using and AutoCAD Software, create concept layout, detail, and design drawings with proficiency.
2.    Participate in early concept work for new projects and recommend methods of construction, product details, assembly/fabrication to minimize cost and maximize value.
3.    Knowledgeable of International Building codes (IBC), American's with Disabilities Act (ADA) and is able to apply these codes into product designs as directed.
4.    Works with purchasing personnel and production to order materials and estimate lead times.
5.    Works with sales to provide customer solutions and estimated timelines of approval packages and potential field solutions.
Other duties may be assigned by Manager.
Qualifications/Competencies
•    Analytical Decision-Making
•    Professionalism & Integrity
•    Communication
•    Risk-Taking/Creative Thinking
•    Learning & Development
•    Teamwork & Relationship-Building
•    Planning & Organizing
•    Results Orientation
Education and/or Experience
•    Experience in design and manufacturing environment a plus.
•    Design/detailing experience in the bleacher/grandstand industry a plus.
•    Experience in 2D design software such as AutoCAD, Inventor, or similar is a must. 3D drafting experience a plus.
•    Proven history of successful projects and ability to articulate their roles in those projects
Computer Skills
To perform this job successfully, an individual should be proficient in Word processing, Excel, AutoCad, and Bluebeam.
Other Requirements/Skills
•    Ability to work with mathematical concepts including geometry and trigonometry.
•    Ability to interact effectively and professionally with employees and customers
•    Strong sense of urgency and motivation
•    Development of bills of materials from detail drawings
•    Must be able to multitask/prioritize effectively
Please apply at www.sedonastaffingtx.com
Recruiting Office: 815 N. Hewitt Dr., Hewitt, TX 76643 (254-666-9494)