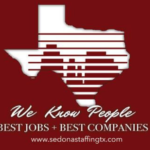 Website Sedona Staffing Services
Serving Waco since 2001. Free to Applicants!
Sedona Staffing Services is immediately hiring for experienced MIG Welders!
Work Hours: Monday-Friday, 1st, 2nd and 3rd Shifts Available
Pay: $17-$20/hr to start DOE
Job Summary:
Use hand-welding or flame-cutting equipment to weld or join metal components or to fill holes, indentations, or seams of fabricated metal products. Operate welding equipment to weld components in flat, vertical, or overhead positions. Operate safety equipment and use safe work habits. Lay out, position, align, and secure parts and assemblies prior to assembly, using straightedges, combination squares, calipers, and rulers to ensure proper assembly. Assemble metal  parts or products. Examine workpieces for defects and measure workpieces with straightedges or templates to ensure conformance with specifications. Recognize, set up, and operate hand and power tools common to the welding trade.  This position requires repetitive lifting up to 50 pounds, bending, squatting and kneeling for long hours. Must pass a criminal background and drug screen.
Preferred Qualifications:
Willing to work overtime. High School Diploma or GED required. A minimum of 1 year  previous experience preferred. Previous certification a plus.  Prefer candidate with strong attention to detail, dependability and having the ability to work well with others. Must be able to pass a weld test.
Please apply at www.sedonastaffingtx.com
Recruiting Office: 815 N. Hewitt Drive, Hewitt, TX 76643 (254-666-9494)