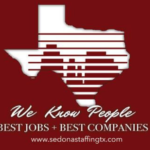 Website Sedona Staffing Services
Serving Waco since 2001. Free to Applicants!
We are immediately hiring for an Account Manager to work in Waco, Texas!
Work Hours: M-Friday, 8 AM to 5 PM
Main Responsibilities:
Manage billing/invoicing process for all assigned client companies
Respond to Client Inquiries
Comply with SOPs for client billing, invoicing, contract compliance, new client implementation, cancelation, etc.
Facilitate all client training
Monthly reporting
Creating / nurturing client relationships
Driving client success
Requirements:
Minimum of 2 years experience in an administrative role
Must have experiencing with answering phones and delivering excellent customer service
Knowledge of Microsoft Word, PowerPoint and Excel
High School Diploma or GED required
Excellent written and verbal communication skills needed. ​
Must maintain a professional appearance and a positive attitude
If interested, apply ASAP at www.sedonastaffingtx.com or call 254-666-9494 for questions.
Recruiting Office: 815 N. Hewitt Dr., Hewitt, TX 76643