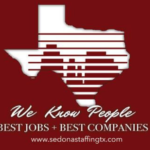 Website Sedona Staffing Services
Serving Waco since 2001. Free to Applicants!
Work Hours: Monday-Friday, 8 AM to 4:45 PM
ROLE:  Claims Specialist
ROLE SUMMARY: A key player in the processing of claims by providing patient, empathetic, customer service to policy-related personnel regarding their claim. This is handled via telephone, e-mail, fax, or by sending letters through the mail. In addition, perform the various claim functions as listed below.
ESSENTIAL DUTIES AND RESPONSIBILITIES include the following but other duties may be assigned:
·         Obtain insured's information by answering inbound calls and verifying information in a friendly, timely manner.
·         Inform insured's family by explaining processes and procedures as well as what to expect.
·         Request requirements for claim processing using internal systems and/or external vendors.
·         Prepare letters and update claim's systems for newly reported claims.
·         Address and send follow-up on outstanding requirements for pending claims.
·         Resolve requirements received via mail, email, or faxes and ensure statuses are updated accordingly.
·         Conduct research on beneficiaries, physician's records, medical facilities, legal documents, and other important data needed to process claims efficiently.
REQUIREMENTS: To perform this job successfully, an individual must be able to perform each essential duty satisfactorily. The requirements listed below are representative of the knowledge, skill, and/or ability required. Reasonable accommodations may be made to enable individuals with disabilities to perform the essential functions.
·         Strong communication, both written and verbal
·         Familiarity with multi-line phone systems and ability to route and escalate calls as needed
·         Enter relevant notes regarding any or all interactions with policy-related personnel
·         Exceptional interpersonal and rapport building skills
·         Strong time management and organizational skills
·         A patient and empathetic attitude
·         Great active listening skills
·         Adaptability and flexibility
·         Comfortable working in fast-paced environments
·         Troubleshooting skills, either basic or advanced, depending on the role and industry
·         Proficient with computers
·         Data entry
EDUCATION, WORK EXPERIENCE and TRAINING REQUIREMENTS:
•         High school diploma or general education degree (GED).
•         Call center experience & customer service experience
Please apply at www.sedonastaffingtx.com
Recruiting Office: 815 N. Hewitt Dr., Hewitt, TX 76643