Director of Development – Waco Habitat for Humanity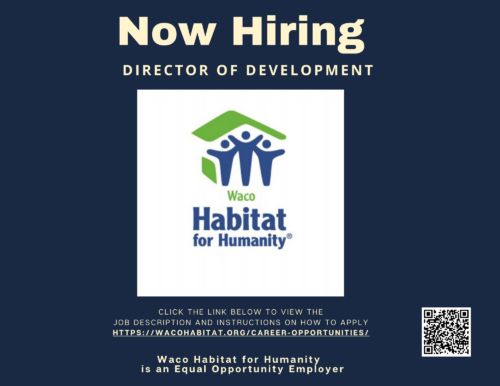 Website Waco Habitat for Humanity
Nonprofit Development, Fundraiser, Communications, Marketing
Waco Habitat for Humanity – Director of Development 
Application Instructions:  Interested applicants should email their resume and cover letter to consultant@thevictoryes.com.
Statement of Purpose: 
Waco Habitat for Humanity, Inc., founded in 1986, is a nonprofit, ecumenical Christian housing ministry that seeks to provide a decent house in a decent community for all of God's people in need. Habitat invites people from all walks of life to work together in partnership to help build and repair houses with partner families.  Habitat builds homes in partnership with low-income families, and those homes are built and repaired using primarily volunteer labor.  Our partner families serve alongside Habitat staff and volunteers as they move toward either repairing the home they already own or eventually purchasing their home through a zero interest loan.
Mission of Waco Habitat for Humanity: 
We envision a world where everyone has a decent place to live.  Seeking to put God's love into action, Waco Habitat for Humanity brings people together to build homes, communities and hope.
Summary/Objective: 
The Director of Development works closely with the Executive Director in assuring the general public is aware of the ministries offered by Waco Habitat for Humanity.  Additionally, this position develops and maintains relationships with donors, foundations, and grant providers to expand opportunities for Waco Habitat for Humanity to serve partner families.
Required education and experience:
Master's Degree plus 2 years' experience (preferred)
Bachelor's Degree plus 4 years' related experience (minimum)
Excellent written communication skills
Computer proficiency (Microsoft Professional Suite, spreadsheet development and management, desktop publishing and graphics, database management)
Excellent oral skills, including public speaking experience
Ability to manage multiple tasks
Strong organizational skills
Ability to work with people of various backgrounds
Skills and Knowledge Requirements:
Ability to work with people from diverse socio-economic backgrounds
Experience with diverse ethnic and faith communities (preferred)
Exhibits a positive and energetic teamwork spirit and strong interpersonal skills
Well organized and detail oriented
Ability to manage a work and planning calendar
Exhibits self motivation and the ability to work independently with minimal supervision
Advanced computer skills (spreadsheet management, database management, word processing)
Exhibits proficient social networking skills (Facebook, Instagram, website, Twitter, etc.)
Ability to manage multiple tasks effectively and complete assigned deadlines
Exhibits excellent attention to detail
Ability to analyze data and make decisions based upon critical thinking
Excellent written and verbal communication skills
Commitment to the mission of Habitat for Humanity
Major Duties and Responsibilities:

Fund Raising.
Foster donor relationships (i.e., stewardship & recognition)
Manage donor database, including producing donor receipts
Identify prospective donors and foster relationships
Engage appropriate staff, board and committee members in donor prospecting & acquisition
Manage capital and routine business campaigns (i.e., house sponsorships, annual fund, capital campaigns, giving clubs)
Identify potential grant, foundation & corporate funding opportunities
Assure direct mail appeals (i.e., Club & end of year appeals) occur in a timely fashion
Effectively engage with other nonprofit and fundraising professionals
Community Engagement:
As requested by Executive Director, serve as affiliate spokesperson
As requested by Executive Director, speak at civic organizations and community
events.
Assure special events effectively use staff and volunteers' strengths and meet anticipated outcomes.
Maximize weekly social media posts
Assure production and distribution of quarterly affiliate e-newsletter
Assure production of annual affiliate report
Assure website contains up-to-date information
Maximize use of printed materials (i.e., brochures, advertisements, etc.)
Maximize participation in community events
Other Duties as Assigned:
Please note this job description is not designed to cover or contain a comprehensive listing of activities, duties, or responsibilities that are required of the employee for this job. Duties, responsibilities, and activities may change at any time with or without notice, and the Director of Development may be asked to perform other duties as assigned.
Physical demands:
Office environment, frequent interaction with current and potential clients and volunteers and the public and the organization's stakeholders.  The outside field work may expose employees to various weather conditions including but not limited to heat, cold, rain, and snow.  This position will have a desk, computer and phone line in an open office environment.  Official office hours are M-F 8:30 am to 5:00 pm, however team members' work schedules that fit their role best can be flexible upon approval from the executive director. This role is expected to have occasional to frequent weekend or evening obligations. We encourage team members to balance hours as needed.  Candidates must be able to lift 25 pounds, work at a computer for long periods of time and walk or stand for extended periods.  Repetitive hand motions, prolonged use of computer and keyboarding, frequent bending, stooping, pushing, pulling, and lifting should be expected. May be required after hour work to complete projects and meet deadlines. Will be required to work after hours to attend public meetings as needed.
Time Requirements:
Full-time Exempt position not eligible for overtime
Requires flexible hours, including some evenings and weekends
Some travel locally, regionally, and nationally
Equipment Used:  Desktop computer and all office related technology
Training:
The position will begin with an onboarding period to become familiar with the organization's work and policies. The candidate will be trained on the specifics of the role through a combination of in-person, online, and written training and will be expected to take the initiative to review materials as needed and seek an understanding of new developments in order to perform their responsibilities. Additionally, the successful candidate may be asked to attend training and certification programs.
Work authorization/security clearance required:
Must be eligible to work in the United States
Employment Benefits and  Perks
Health Insurance (paid in full for employee)
Dental Insurance (paid in full for employee)
Vision Insurance (paid in full for employee)
PTO (15 days at hire, 20 days at 2 years, 25 days at 5 years, 30 days at 10 years)
Paid holidays (13)
Workers Comp Insurance
Affirmative Action/EEO Statement 
Waco Habitat for Humanity values diversity and believes in providing equal opportunity in who we hire, train, and promote in all positions without regard to race, color, religion, national origin, sex, age, disability, or any other protected status. We seek to ensure that decisions regarding compensation, promotions, benefits, and/or programs will be in alignment with our value of diversity.
At Will Employment:
Nothing in this position description binds Waco Habitat for Humanity or any employee to a specific or definite period of employment or to any specific rules, practices, policies, procedures, benefits, guidelines, working conditions or privileges of employment.  As an employee, you are an at-will employee completely free to quit or resign from the organization at any time you choose, and Waco Habitat for Humanity has the same right to end the employment relationship at any time it chooses, for any reason, with or without notice.
Job Title: Director of Development
Salary:  $ 49,000 – $60,000 (DOE)
Reports to: Executive Director
*FLSA Classification: Exempt | Salary | At-Will       Benefits/PTO:  Eligible
*FLSA Status: This position is exempt from the overtime provisions of the Fair Labor Standards Act (FLSA). It does not earn overtime or compensatory time for additional time worked.